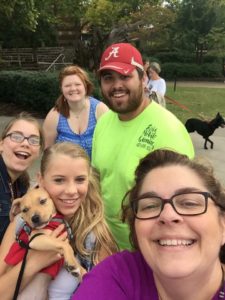 I was a child of the Church. Suddenly, I was no longer wanted. If I would be quiet about my truth, I could continue to attend but I would no longer be in positions of leadership. One day an adult Sunday school teacher and Women's Bible study leader, the next day shamed because of my identity.
I wanted to be known by my family and friends the way God has always known me, I needed to be known as a Bisexual, Happily Married, Christian, so I made an announcement on Facebook after contacting my family members. Following this announcement there was complete silence; shunning really. This and close family rejection was faith breaking.
I was a pastor's kid. I was raised in the church, I went to a church related college, Scot and I were married in the church with our father's participating, both preachers, we've raised our children in the church and we have made our faith our life's anchor. When the anchor disappeared, we were lost. I were battered, broken and self protective. Then we came to St Elmo UMC during a gay pride interfaith service. In these walls we were befriended, we sang songs of Jesus love and I wept. I was still lovable, I was still valuable and desired as part of the family…God's family.
Joe-D has listened to my doubts and fears and continually assured me that God can handle all of these messy ways of relating to him.
Here; I have been able to begin to heal. For your friendship, for your spiritual openness, for your trustworthiness. Thank you.